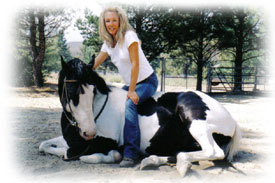 I also offer the Ultimate Camp Clinic,which is 5 days of instruction with you and your horse, conducted from 9 am to 5 pm Monday through Friday. This is an intense week long training clinic working first in the round pen, then the arena, and will incorporate rides out on trail. Whether you show, or ride trail, this clinic will help you build a strong foundation to safely bring you and your horse to the next level of horsemanship that you are looking for.

The knowledge each guest will gain and the improvement on each horse will be considerable and a true partnership between horse and rider will develop. Only 4 guests per week are accepted in order to devote individual attention. Each guest is video taped and the tape is reviewed each day to better determine areas that may require more concentration.

The Ultimate Camp Clinics offer excellent training techniques for both the young and advanced horse alike and is specifically designed for each Rider to safely prepare them for any environment or discipline.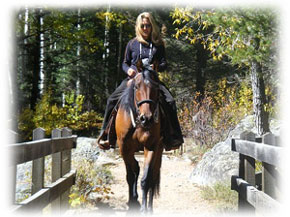 Sheryl can lead you across the
bridge to success with your horse!
"Our office has had only great referrals from Sheryl's customers. In seeing her for the past several years at expos, her positive attitude, work ethic and responses at these shows from her customer's shines through. Jody and I are very proud to recommend Sheryl for the training she provides."
John & Jody Lyons

Hello and Welcome!
Offering training, clinics and instruction throughout the year.
Sheryl Lynde clinics are offered on a regular basis. Each clinic is a little different, covering topics in Round Pen Basics, Trailer Loading, Pre-Trail Conditioning, Foundation Groundwork and Problem Solving from the saddle. The clinics I offer are either conducted at my ranch or can be hosted at your ranch. Clinics range from 2 to 3 days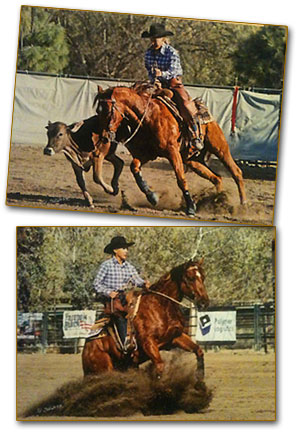 I do take in horses for training. Most people that I train horses for have a specific area they would like to work on - trailer loading, ground manners, training an arena worked horse for trail riding, start a young horse or problem solve such as rearing or bucking. I take in horses on a weekly or monthly basis. The methods I teach are John Lyons and are universal and essential for all disciplines - Western Pleasure, Reining, English, etc. I specialize in more control with lighter hands, responsiveness, softness, collection at all gaits and stops.